GSMP Honors 2017 Shepherds of Peace
In conjunction with Conflict Resolution Day, CORA Good Shepherd Mediation, Philadelphia's only community mediation center, names several individuals who have been instrumental in encouraging peace and social justice in Philadelphia and honors them as "Shepherds of Peace." The 2017 Shepherds of Peace were chosen for their dedicated and compassionate work to ensure the health and safety of Philadelphia's children, youth and families:
Yancy Harrell and Movita Johnson-Harrell, grassroots organizers working to prevent gun violence and get guns off the streets. The Harrells founded the CHARLES Foundation in memory of their son who was killed in a case of mistaken identity;
Susan L. Brooks, Associate Dean for Experiential Learning and Professor of Law at the Thomas R. Kline School of Law at Drexel University and pioneer in the field of therapeutic jurisprudence; and
Sr. Kathleen Coll, SSJ, Executive Director of Dawn's Place, a program that works to improve the lives of foreign-born and American women who have been victimized by commercial sexual exploitation.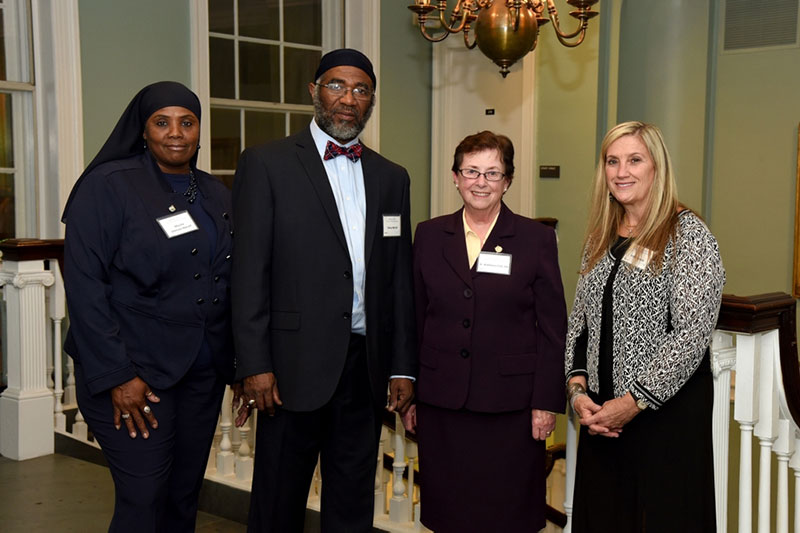 EVENT SPONSORS
Justice Sponsor – IMC Construction
Justice Sponsor – Sisters of the Good Shepherd Province of Mid-North America
Reconciliation Sponsor – Beneficial Bank Foundation
Community Sponsor -- Eckert Seamans Cherin & Mellott, LLC
Community Sponsor – Berner, Klaw Watson
PREVIOUS HONOREES
2016
Kevin J. Bethel, Senior Policy advisor; Stoneleigh Foundation Fellow; architect of the Philadelphia Pre-Arrest School Diversion Program.
Rachel Falkove, Executive Director, Philadelphia Interfaith Hospitality Network.
James Rosenstein, Negotiation facilitator, mediation ambassador and leader, and CORA GSM volunteer mediator.
2015
Diane Menio, Executive director of the Center for Advocacy for the Rights and Interests of the Elderly (CARIE)
Dr. Amy Goldberg and Scott P. Charles, Temple University Hospital-based Cradle2Grave Program
Milt Cohen, a Good Shepherd volunteer
2014
Homer Floyd: former Executive Director of the Pennsylvania Human Relations Commission
Seth Rozin: Playwright; Founder and Producing Artistic Director of InterAct Theatre Company
Michael Viola, Esq.: Family Law Staff Attorney, Philadelphia VIP (Volunteers for the Indigent Program); Partner, Shainberg & Viola, PC; loyal CORA GSM Volunteer Mediator
2013
Sharon Browning, Esq.: Founder and principal of JUST Listening; former Executive Director of Philadelphia VIP (Volunteers for the Indigent Program)
Joel Austin: Founder and CEO of DaddyUniverseCity
2012
Edward Blumstein: Family Mediator; creator of the Temple University Law School Domestic Relations Mediation Clinical Program; mentor to hundreds of aspiring mediators
Rev. George W. Bur, S.J.: Jesuit priest who initiated the Ignatian College Connection, working with disadvantaged children and their families at Gesu School through Saint Joseph's Prep and Saint Joseph's University
Tricia S. Jones, Ph.D.: Professor, Temple University and Project Director of Conflict Resolution Education in Teacher Education (CRETE)
2011
Jane Golden: Executive Director, Philadelphia Mural Arts Program
Rue Landau: Executive Director, Philadelphia Commission on Human Relations
Chris Satullo: Executive Director of News and Civic Engagement, WHYY
Harris Sokoloff: Executive Director, Penn Project on Civic Engagement, University of Pennsylvania
2010
Vai Sikahema: NBC Sportscaster for his work with "Wednesday's Child" and adoption advocacy
Marsha Levick, Esq.: Juvenile Law Center
Paul Jay Fink, M.D. (deceased): Child Psychiatrist; Faculty Member, Temple School of Medicine Department of Psychiatry and Behavioral Science
2009
Frank Cervone, Esq.: Executive Director of the Support Center for Child Advocates
Deputy Commissioner Stephen T. Johnson, Sr. (deceased): Philadelphia Police Department
DeVonne Coleman White: former School and Community Services Manager, CORA Good Shepherd Mediation
2008
Victoria Yancey, Ph.D.: Chairperson of Safe Night Philadelphia; Guardian Angel of the Philadelphia School District
Tony Chunn, Ph.D.: Former Executive Director of Cora Services
Estelle Yasnoff-Chunn, Ph.D.: Child Psychiatrist
2007
The Honorable Kevin Dougherty: Administrative Judge of the Philadelphia Family Court
Representative Dwight Evans: Architect of Blueprint for a Safer Philadelphia